Losing your hair can be stressful and upsetting. Many of my clients have spent so much time, money and emotion searching for the best solution for their situation, and to most it seemed like an impossible dream until they stepped through my door.
I am passionate about the industry, and will work with you to find a quality solution so that you can leave looking and feeling confident again.
I offer a detailed consultation and fitting appointments that work solely one-to-one in a quiet home based salon that is private and set back with your own parking, toilet facilities, tea and coffee station and backwash. I strive to always provide a comfortable, safe and secure experience because I understand how important confidentiality is whilst you have your treatment.
Everything will be discussed thoroughly during the consultation to ensure you know everything you need to know before going ahead. Any questions or concerns you may have will be answered professionally with experience to ensure you're completely aware of what to expect from your treatment.
I will also set up your own file so that we can keep up to date with the progress of your hair re-growth.
A final price must be given upon consultation as I will tailor make each hair replacement system, amount of hair, length and thickness needed specifically for you.
HAIR LOSS INTEGRATED SYSTEM
This method is for ladies with…
Very thin or receding hair
Stress related hairloss
Alopecia
Female pattern baldness
Extremely damaged hair
Post pregnancy
Extremely short hair
Thyroid disease
Growing hair back after chemotherapy
Trichotillomania
The Integrated Mesh System will be a great benefit to those who still have some of their own hair, and most prefer it to wearing a full head piece. It is also a popular method because the results are immediate and effective.
This non-surgical procedure involves blending existing hair with the finest luxury Remy hair that is attached to a custom-made unit made of ultra-fine, soft mesh and shaped to fit you. This creates a full, instant head of beautiful, natural looking hair. I will use my knowledge and experience to achieve the most suitable Mesh Integration unit for your lifestyle and desires.
This method gives you the freedom to wash, brush and treat the hair as if it was your own! This system is absolutely life changing for some people and it gives me great pleasure watching clients leave with a whole new confidence.
I will custom make each fitting specifically for each client to suit them entirely. I always work in the clients best interests so you're in safe hands! I will also start your very own hair loss plan to keep up to date on the progress of hair re-growth.
All Integrated Mesh Systems will require maintenance every four to eight weeks depending on your skin, lifestyle and hair growth.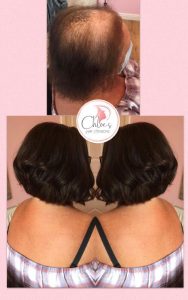 Full Refit every 6/8 weeks includes full system removal, cleanse of the scalp, wash, blowdry and refit.
Is it suitable for me?
The Integrated Mesh System has been specifically designed for ladies with thinning hair, patchy hair or no hair. It is especially helpful for clients with medical conditions such as Alopecia, Trichotillomania, hair loss due to chemotherapy, pattern baldness and many other hair loss conditions.
Not every client will need the full system and may only wish to have patches filled in or thickening of the parting. There are other hair replacement options available for this and can be discussed during a consultation.
PARTING VOLUMISER
A volume parting is perfect for anyone who has a good amount of hair everywhere else but just lacks some volume in the parting/crown area. If you find yourself needing to wash your hair everyday to prevent the top section always looking flat and lifeless then this could be a perfect solution!
Thinning hair in the parting area is so common and can lead to over washing/backcombing/adding volumising products which will in turn create damage to roots which only exasperates the issue.
Once fitted, other methods of hair extensions can then be added underneath to give you added volume and length to the rest of your hair if desired. This volume parting uses no mesh and is fitted onto your natural hair and secured down using tiny little silicone lined rings. Only the highest quality, breathable partings will be used. This gives an amazing result and can not be seen at all (know one will know your wearing anything!) These systems can last up to a year with correct aftercare and maintenance.
Maintenance
Full Refit every 6/8 weeks includes full system removal. cleanse of the scalp, wash, blowdry and refit.
I hope you will join so many other ladies who are enjoying their newfound hair and confidence!
If you have any further questions or would like to book a free consultation please contact me today.
I look forward to hearing from you.
Chloe
X